Sweater: Refashioned
Necklace: Refashioned
White Tee: Target, 5 years ago
Denim Crop Pants: Thrifted, GW Outlet
Shoes: Parade of Shoes, 10 years ago
This SSS challenge is helping me get off my refashioning duff!
I love this sweater. I love the color and the shape. I got it for about $10 on clearance from Chadwick's about 5 years ago. Because it was on clearance, I ordered what they had (an XL which should have fit). I used to swim in this sweater – and would put a belt or ribbon tie around it for shaping. Here is the original on MeToo:
I repositioned the buttons to turn this into a wrap-style sweater and I'm really pleased with the result.
After wearing it for hours now, I think the buttonholes need mini episiotomies (*ahh, the painful memories*) to stay closed.
About 2 years ago, I bought a $5 vase-full of ugly necklaces from Goodwill. The necklace I have on today used to look like this…
After dunking the pink necklace in the bucket with my jeans-dyeing experiment and restringing it with another Goodwill necklace (and some pink glass beads from the GW Outlet), I came up with this: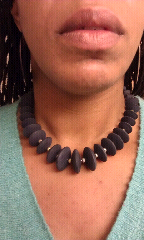 This necklace is awesome now! And I'm proud of myself for finally tying off the fasteners well.
The scoopneck on the white tee is a tad too low for work (and the cotton too thin to wear out anywhere!) so it's perfect to wear under the sweater. I bought the denim crop pants in June during one of my trips to the Goodwill Outlet – they had never been worn before and were less than $1 in their by-the-pound pricing. I think they are seriously too tight, but the kids and boyfriend like them. And I have fulfilled the denim Friday peer pressure at work while looking sharp for dinner with my bff tonight!